«Scienza & Politica, per una storia delle dottrine» is an experiment that has been lasting for more than twenty years. It started as a printed journal in 1989, from 2011 it is published only in electronic format. "Scienza & Politica" addresses the consolidated views of the scientific disciplines concerning "the Political", that are more or less routinely divided into philosophy, history, law, sociology, plus a history specifically concerned with thought.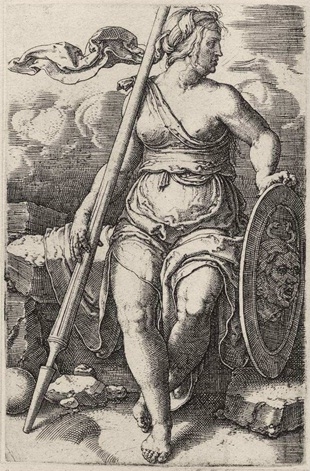 Lucas Von Leyden, Athena Pallas.
Our choice is not simply to assume an interdisciplinary approach, but to work on the lines of connection and overlapping between the different disciplines. The journal aims to test the research on the complex and diverse belonging of political phenomena, rather than on their specific disciplinary determination. It pretends to put at stake the disciplines themselves knowing that they are a major mode of acquisition and transmission of knowledge.
For this reason, the Journal does not want to deal directly and exclusively with "science", but with those projections that translate science into formulas socially transmitted, i.e. into doctrines. We are interested in registering and decoding the inevitable "political" impact that all doctrines have within any field of interest and action because of their constitutive "social" function (through the educational, cultural and ideological transmission). The Journal explores the doctrines as material phenomena, whose aim, performance, weight, historicity can be measured. They reveal the existence of a daily and living politics that is not necessarily expressed in political terms.
Scientific direction: Pierangelo Schiera, Maurizio Ricciardi
Editorial coordinator: Roberta Ferrari
Editorial board: Raffaella Baritono, Eleonora Cappuccilli, Monica Cioli, Luca Cobbe, Niccolò Cuppini, Furio Ferraresi, Michele Filippini, Gustavo Gozzi, Sandro Mezzadra, Luca Scuccimarra, Federico Tomasello, Stefano Visentin
The journal is rated "A", by the Italian academic research evaluation agency (ANVUR) for the Scientific and Disciplinary Sectors 14/A1, Political Philosophy, 14/B1 History of Political Thought, 14/B2 History of International Relations, of non-European societies and institutions and it is indexed by DOAJ, ACNP, BASE, Google Scholar, JournalTOCs, JURN, PLEIADI, Web of Science – ESCI (Emerging Sources Citation Index).